It's a tradition on thanksgiving morning to announce the best high school football player in Savannah Chatham County through the local newspaper, as wished by the Finocchiaro family when the award was presented for the first time in 1976. Well, we have another first. New Hampstead High School senior Pauly Seeley has been named the winner of the 42nd Michael Finocchiaro Award. The first Phoenix football player to win the award.
The award has been given out annually to the top high school player in Savannah, as voted on by the head football coaches, private and public, in Chatham County, and local media members. The award was created by and in honor of the late Mike Finocchiaro, who passed away in 2001. Finocchiaro wanted an award for local prep football players, like the prestigious college football award, the Heisman Trophy.
Seeley has committed to Wofford, where he will enter early in February. He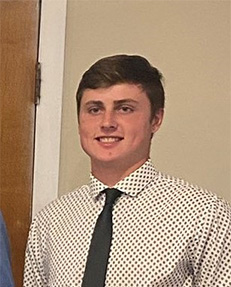 would help New Hampstead reach the Georgia High School State Association Class AAAA state football playoffs with a record of 6-5. As a senior quarterback on the field for the Phoenix, Seeley threw for 2,520 yards and 29 touchdowns. Besides being outstanding on the gridiron, Seely is exceptional in the classroom. As a student, Pauly carries a 4.0 GPA.
FINOCCHIARO AWARD WINNERS
1976 — Tommy Cupstid, Windsor Forest
1977 — Randy Lanier, Benedictine
1978 — Chris McCarthy, Benedictine
1979 — J.J. Young, Groves
1980 — Harry South, Benedictine
1981 — Joel Carter, Benedictine
1982 — Jack McCollum, Jenkins
1983 — Stephen Jones, Jenkins
1984 — Peter Brennan, Benedictine
1985 — Tim Smart, Groves
1986 — Corey Ladson, Tompkins
1987 — Keith Jones, Savannah High
1988 — Stanley Smart, Savannah High
1989 — Daryl Wall, Windsor Forest
1990 — Marcel Cooper, Groves
1991 — JJ Mobley, Beach
1992 — Bill Sparks, Savannah Country Day
1993 — Mede Lewis, Savannah High
1994 — Vinson Cooper, Groves
1995 — Patrick Smith, Benedictine
1996 — Prince Jonson, Beach
1997 — Walter Simmons, Benedictine
1998 — Jamaal Argrow, Benedictine
1999 — Craig Thomas, Calvary Day
2000 — Lamar Owens, Benedictine
2001 — Joey Boaen, Country Day
2002 — Joey Boaen, SCD
2003 — Sage Glasper, Groves
2004 — Jonathon Armstrong, Groves
2005 — Demarcus Dobbs, Calvary Day
2006 — Franklin Green, Jenkins
2007 — Franklin Green, Jenkins
2008 — Chris Barnwell, Savannah Christian
2009 — Chris Barnwell, SCPS
2010-15 — No winner
2016 — Wesley Kennedy, Benedictine
2017 — Javonte Middleton, Jenkins
2018 — Jakeen Harris, Benedictine
2019 — Ronald Cooper III, Jenkins
2020 — Justin Thomas, Benedictine and Spencer Robicheaux, Savannah Christian
2021 — Justin Thomas, Benedictine
2022 - Pauly Seeley, New Hampstead
PHOTO CREDIT - Prep Sports Report
Optim Orthopedics supports Benedictine Military School, Calvary Day School, Richmond Hill High School, Savannah Country Day, South Effingham High School, and St. Vincent's athletics. Benedictine Military School's team doctor is Dr. David Sedory. Dr. David Palmer is the team doctor for Calvary Day School, South Effingham, and Richmond Hill. Savannah Country Day and St. Vincent's team doctor is Dr. Thomas Alexander. Remember, Optim Orthopedics gets you back into the game!