The Habersham School finished the Cross Country season in dominant fashion, winning the Georgia Association of Private and Parochial Schools girl's and boys' State meet on Saturday, October 29, 2022.
The Habersham School boy's and girl's cross-country teams won the GAPPS Division 1 State meet at the Georgia Premier Cross Country Course in Macon, GA.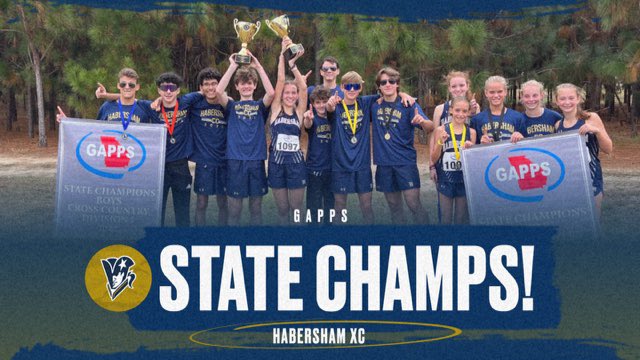 The Habersham boy's team placed four runners in the top 10. For the boy's team, two sophomores led the team, Nicholas Aldrich, who claimed 1st in a time of 17:21, and Henry Brooks placed 4th in a time of 18:06. Crossing the finish line in 6th place was freshman Daniil Phillips (18:20), then next was junior Tyson Harper in 8th (18:33).
The rest of the team that finished for the Patriots were senior Stephen Dusek (19:58), junior Ike Barry (20:10), and freshman Tripp Fowler (20:30), who rounded out Habersham's seven.
Furthermore, the Varsity Girls also won the GAPPS Division 1 State meet on the same course. The team placed two runners in the top ten. Sadie McGarity led the way for the Lady Patriots, placing 4th overall in a time of 22:04. Gaby Kenard followed close behind, placing 8th overall in a time of 22:38. Eliza Reeves (23:45), Ivy Ann Hogan (24:52), Zoie Hohnerlein (25:09), and Ashby Rowland (26:20) completed the scoring for Habersham.
Photo Credit: The Habersham School