Savannah Christian Preparatory School (SCPS) Varsity Competitive Cheer Team earned the school's first-ever Georgia High School Association (GHSA) Competitive Cheer State Championship title on November 12, 2022, at the Macon Centreplex in the 3A Classification. Last year the Raiders finished as runner's up in GHSA Class A Private.
This year the SCPS Cheerleaders had a phenomenal season going undefeated. Savannah Christian won at West Laurens on September 17, September 24 at Screven County, October 15 at South Forsyth, and October 29 at Swainsboro. The Raiders went undefeated, capturing the first-place trophy in all four competitions they attended. Then won the region title on November 5, 2022, before being crowned GHSA state champion.
According to Head Coach Charita Bowers, who has been the head coach since 2011, the Raiders came into the season with a different outlook. "This year's team came in with a different mindset. In previous years the team always came in under pressure to win on having come close a number of times to beating the defending state champion," said Bowers. "This year was different because of the new classification. So, the team motto was to do things differently. It was a new year, a new classification, and to do things differently. The first was we needed to worry about ourselves and not other teams."
These talented student-athletes had a busy week before competitions on Saturdays. Coach Bowers said, "We would practice on Tuesday, Wednesday, and Thursday after school. Then all the girls were sideline cheerleaders for either junior varsity or varsity football games before we attended competitions on Saturday. Then on Mondays would be film day to go over the previous competition." As you can see, it was non-stop for the Raider cheerleaders to get prepared, besides being a program to watch.
SCPS was one of the teams to watch. According to the Atlanta Journal-Constitution, the Raiders had to face defending state champion Dawson County High School, who, like SCPS, won their first title ever last year. Others in the preview were six-time defending Class A-Public School state champion Gordon Lee who moved up in classification also. The AJC also mentioned the Raiders and the other top teams Bremen, Columbus, and Mary Persons, who all finished in the final top five.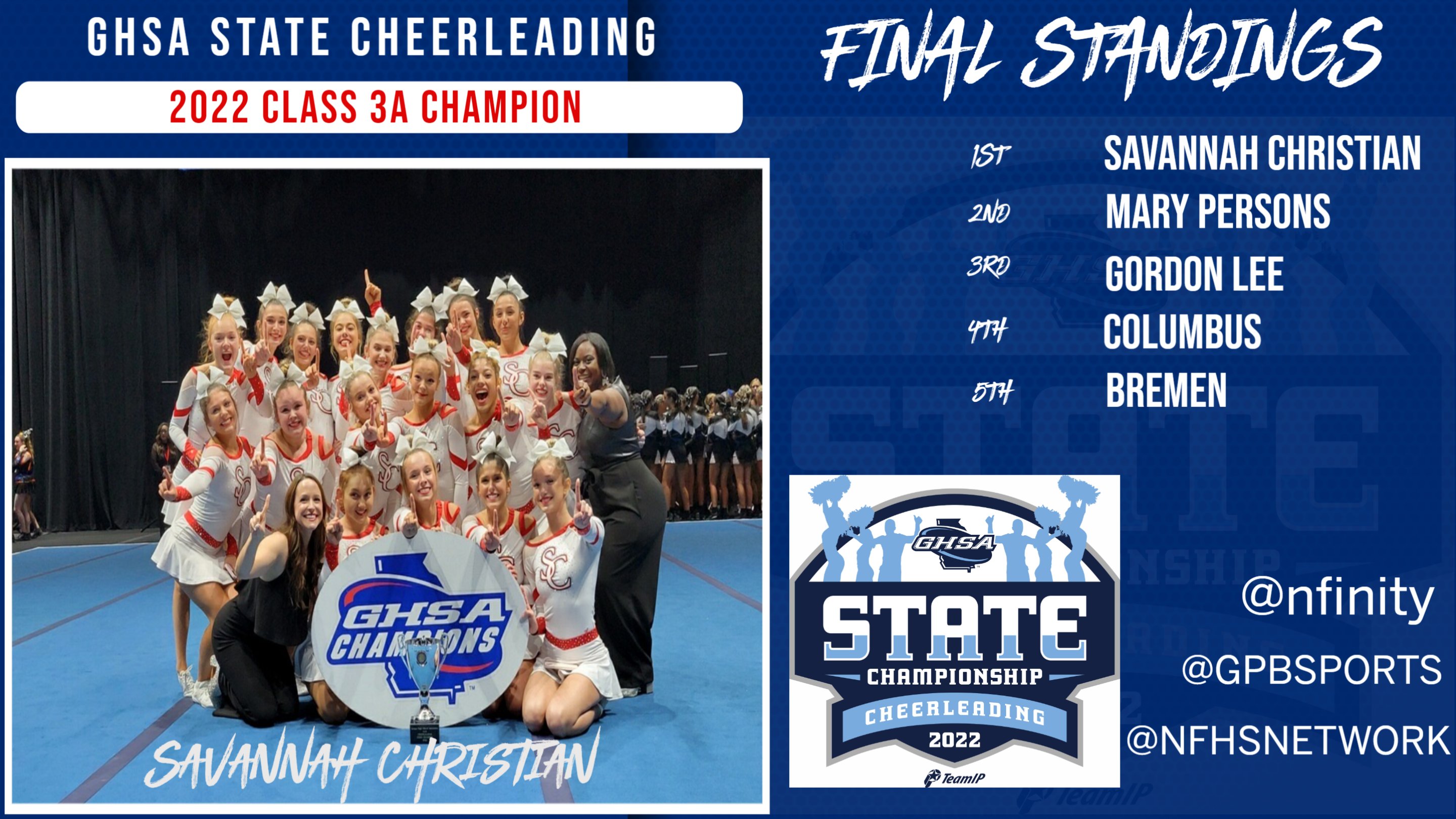 Coach Bowers stated that this was a special group and year. "In past years, we let the seniors lead the team, but we tried something new. The team chose the captains," said Bowers. "It worked out great. The girls worked well together, and there was a different bond. The girls communicated very well, which is key in any sport. The girls were more together outside practice, in school, in practice, and especially in competitons." Most of the team are back to defend their championship. "We only lose four cheerleaders to graduation and we have an outstanding middle school program. This season was unbelievable, but we are excited about next year," said Coach Bowers.
Winning a state title and being undefeated is unique in any sport, and the Savannah Christian competitive cheerleaders can finally say, "We are the Champions." The future looks bright and as they say, on the Chatham parkway campus. It is "Always a great day to be a Raider" and a Champion Raider at that!
SAVANNAH CHRISTIAN PREPARATORY SCHOOL
2022/2023 GIRLS VARSITY COMPETITIVE CHEER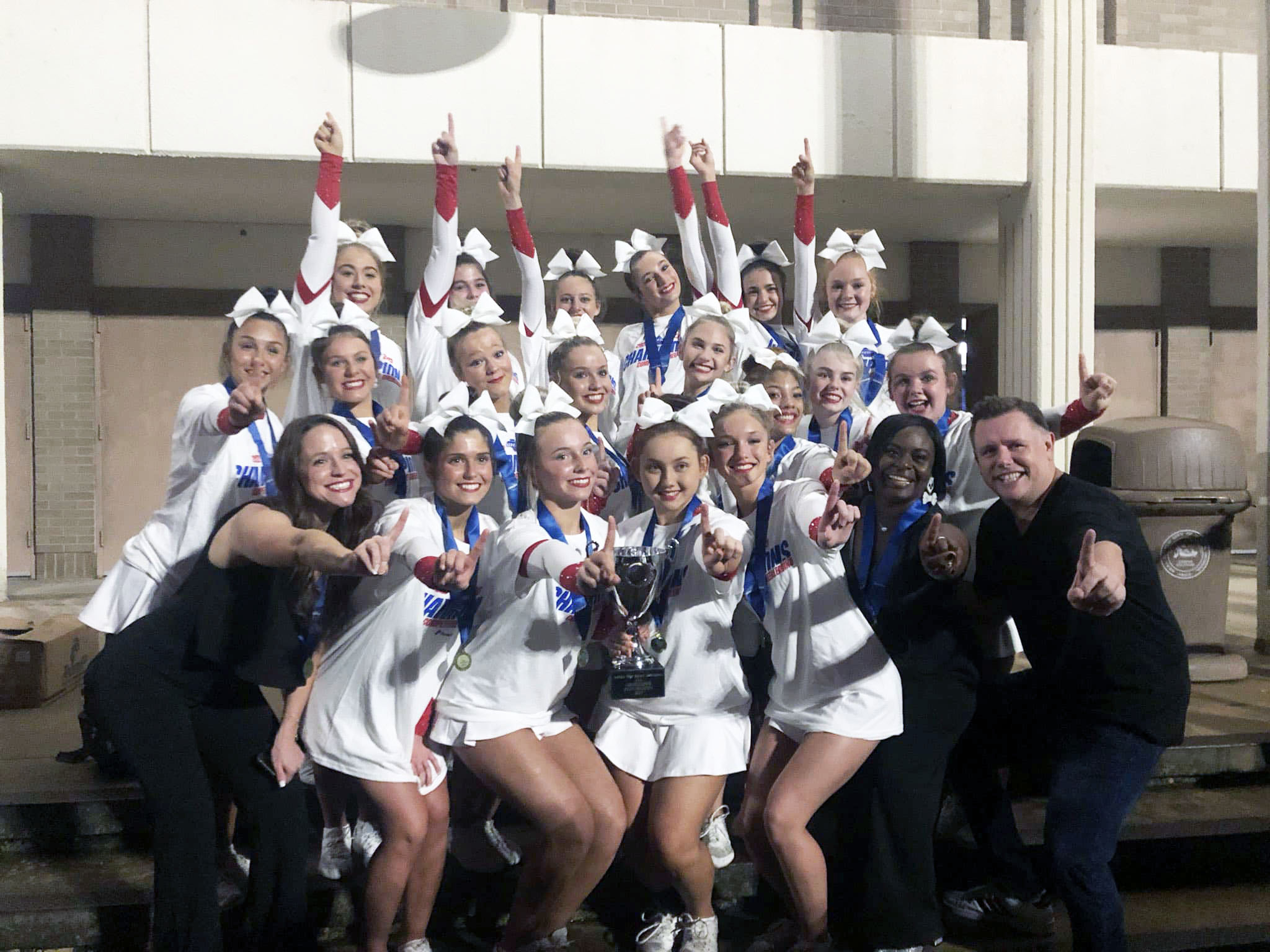 | | |
| --- | --- |
| CHEERLEADER | YEAR |
| Marian Brunson | Senior |
| Lindsay Mills | Senior |
| Norah Riley | Senior |
| Sarah Royal | Senior |
| Ella Jones | Junior |
| Emylee Parsh | Junior |
| Grace Phillips | Junior |
| Payton Shirley | Junior |
| Jadyn Singleton | Junior |
| Addisyn Smith | Junior |
| Grace Stoever | Junior |
| Anna Brinson | Sophomore |
| Madee Hodges | Sophomore |
| Avary Schmuker | Sophomore |
| Bailey Buttrey | Freshman |
| Milissa Maxwell | Freshman |
| Mady Shurling | Freshman |
| Sadler Wilson | Freshman |
| | |
| HEAD COACH | Charita Bowers |
| ASSISTANT | Kellianne Edgy |
| CHOREOGRAPHER | Ray Mills |
PHOTO CREDIT - Savannah Chistrian social media sources
Follow the Prep Sports Report on Facebook at https://www.facebook.com/PrepSportsReport/ Instagram at https://www.instagram.com/savannahsportsreport/ and Twitter at @PrepSav